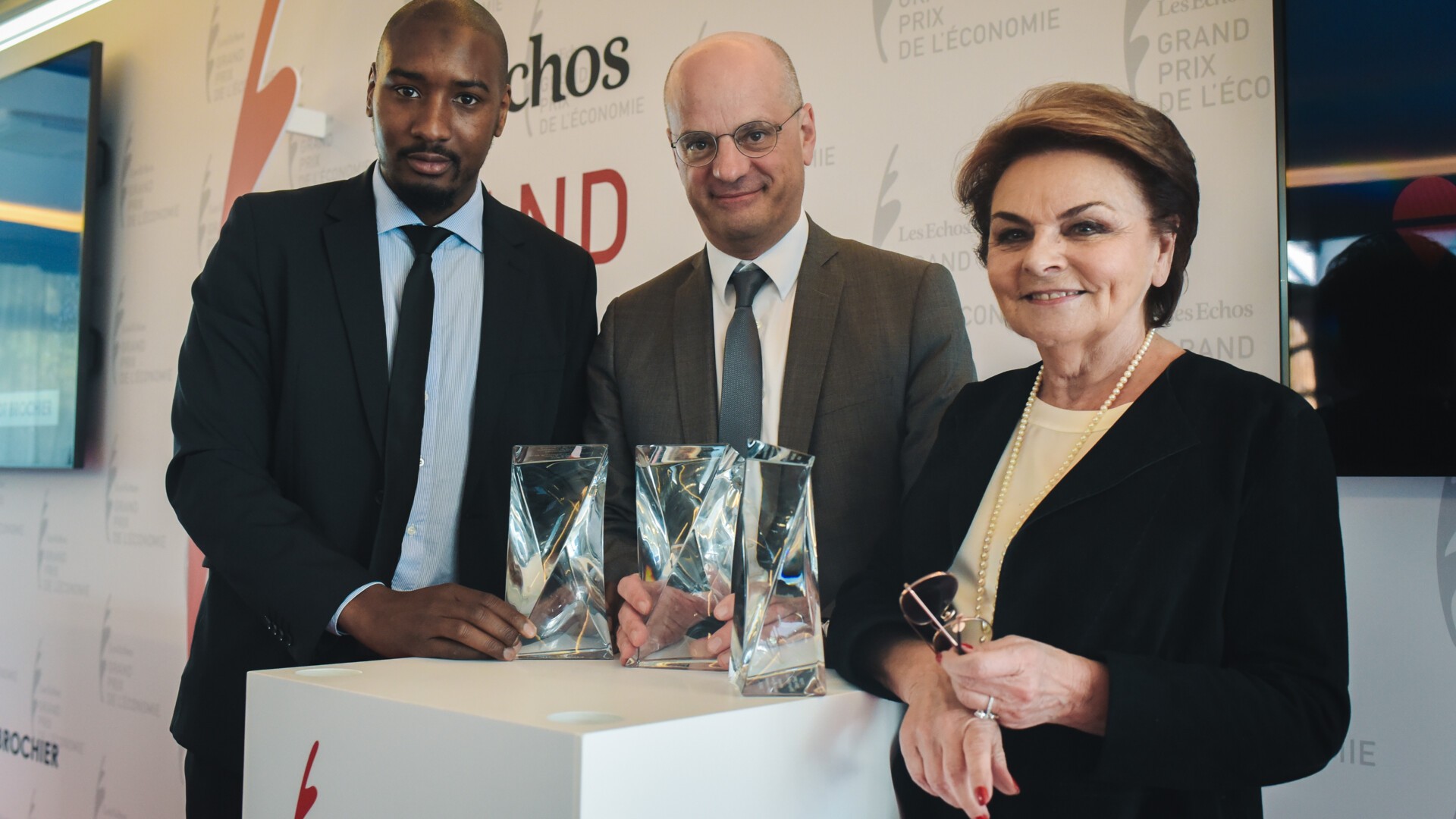 Paris, France,
October 19, 2018
Annette Roux, winner of Les Echos Grand Prix de l'Economie 2018 prize
On Tuesday October 16, 2018, Annette Roux received the 2018 Grand Prix de l'Economie prize, in the Business category, from the French newspaper Les Echos. French Minister of Education, Jean-Michel Blanquer, was recognized in the Politics and Economics category, while Moussa Camara, who founded the charity Les Déterminés, won the Best Prospect category for his support for creating businesses.
During this incredible journey, marked by numerous prizes and awards, each one has been just as important as all the others in her eyes:
"I feel very moved to receive this leading economic and financial award. I would also and above all like to share this with all the people who are working today and have worked in the past to enable Beneteau to grow from a small-scale traditional yard with 17 people to become what it is today:

With our parents, who left us a small business to be redeveloped, today we would say to be 'transformed', with one maxim – 'the company first';
 
With our customers, who inspire us and drive us to continue moving forward tirelessly;
 
With our Board, our teams, with our management leading the way, as well as every single person, whatever their role within the company, whether or not we succeed is simply the result of their combined capabilities;
 
With our networks, with our 7,000 current employees around the world, as well as everyone who has helped build this group. Whatever their journey within the company, at their time, they have all made crucial contributions.
 

My thoughts in particular are with all those young people who I personally recruited in the 70s and 80s aged 16 or 17, and who I am seeing leave in their hundreds each year after already reaching retirement! I like it when they tell me: 'Thank you, it has not always been easy with you, but thanks to you, I have had a beautiful life'…In the autumn of life, what a delightful tribute.

The Group, now the global market leader, is truly unique, there is no other yard quite like us, covering virtually all segments - sailboats, motorboats, from 5 meters up to 35 - across all the continents, rolling out a major transformation with Hervé Gastinel at the helm. The family still hold a majority of the capital and a generational transition is well underway.

I would like this award to be a source of encouragement for everyone to continue with our work, creating and then ensuring the sustainability of a company, while always keeping in mind: 'The company first'.

Thank you".