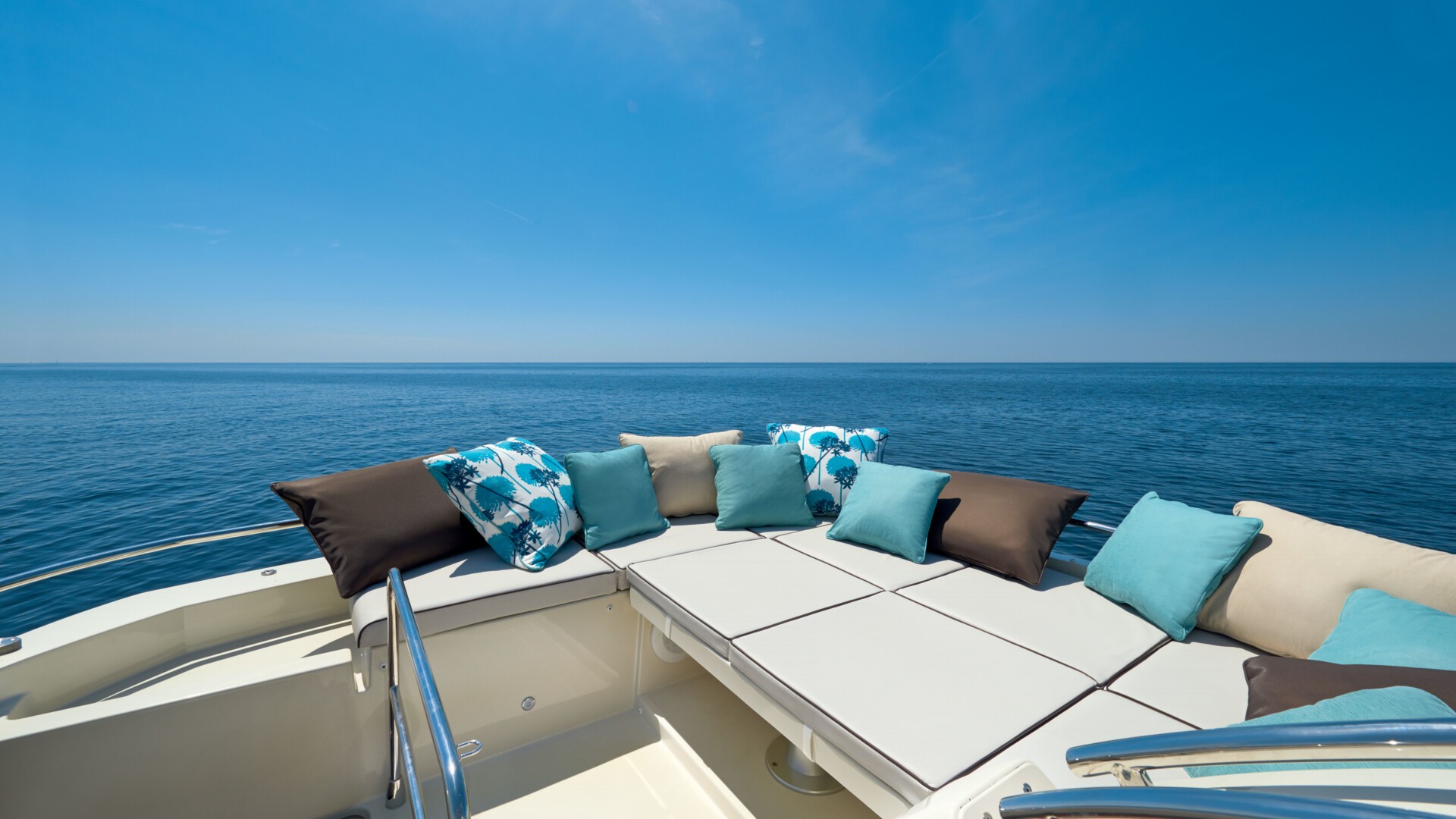 Cannes, France,
September 12, 2017
Cannes Yachting Festival 2017 : the new season showcases spirit of conquest
Groupe Beneteau is opening the boating season announcing 38 new models, an exciting product line, the revolutionary SHIP CONTROL system and also takes a look at the initial results of its transformation plan.
On the occasion of the 40th Cannes Yachting Festival, Groupe Beneteau is opening the boating season with a focus on winning market share as it announces 38 new models, record investments for an exciting product line, and the revolutionary SHIP CONTROL system; it also takes a look at the initial results of its transformation plan.  
"Transform to Perform": a growing Group looking for new opportunities
Launched two years ago, its "Transform to Perform" plan has seen the Group generate positive momentum focused on five objectives for 2020: 
Maintain worldwide leadership in the sailboat segment and strengthen its positions in the powerboat segments;

Global positioning backed by comprehensive, innovative products and services;

Expanded range of services to boost convenience and simplify use;

Digital transformation in both industrial and commercial operations;

Greater synergy between R&D and the industry, focused on operational excellence.
Outlining ambitious objectives (faster-than-market growth, revenues from ordinary operations of 8-8.5% and more than EUR 250 million in liquid assets by 2020), the plan is bearing initial fruit with Boat and Group sales expected to grow by 11% and the Boat Division expected to report more than EUR 1 billion in sales.
Its new visual identity is on display in Cannes and its new corporate website will go online in mid-October, before the Group presents its annual results on October 31, 2017.
SHIP CONTROL: the launch of the connected boat
With a record investment of EUR 47 million in product development, the Group's 10 brands – Beneteau, Jeanneau, Lagoon, Prestige, Monte Carlo Yachts, CNB, Four Winns, Glastron, Wellcraft, and Scarab – announce the arrival of 38 new models (versus 29 for the 2016-2017 season).
The brands will have 72 boats on exhibit in Cannes, including 15 new models and 19 craft over 60 feet long. 
Among its new products, the Group will be unveiling its major innovation, SHIP CONTROL. The result of 15 of its experts working on it for two years, it has also involved extensive collaboration with the Group's long-term partners.
Combining multiplexing technology with digital ergonomics, SHIP CONTROL is a universal interface accessible from the navigation screen or a tablet. It lets you control all of the boat's functions, ranging from safety to on-board comfort. This innovation will be on show on Beneteau's Gran Turismo 50, which exemplifies how the company is staying true to its pioneering spirit in Cannes. Groupe Beneteau is currently the only boatbuilder to offer such a complete solution, which will soon be offered to other models in the Group's range of brands.
Hervé  Gastinel, Group CEO says: "The initial results of the transformation plan and the commitment of our 7,000 employees throughout our locations in France and abroad demonstrate the winning spirit that drives the Group. We are very proud of the innovations unveiled at boat shows this fall. They are proof of our brands' operational excellence and the passion that drives our teams to offer enhanced, cutting-edge products."
Download all of the brands' press kits here :
https://beneteaugroup-my.sharepoint.com/personal/l_raffray_beneteau-group_com/_layouts/15/guestaccess.aspx?folderid=078b5e21ebd584de0a4bdf61bb2810462&authkey=AfX9gp6ic9dgaNnZ-rrvL7s&expiration=2018-03-11T14%3a58%3a23.000Z

BENETEAU : The Group's historic and founding brand, Beneteau is a pioneer in the realm of international boating. The new Gran Turismo 50 equipped with the SHIP CONTROL onboard system demonstrates its capacity to innovate. The new Oceanis 51.1 introduces a new concept of naval architecture that unites performance and large volumes. More press releases, photos and videas can be found at http://media.beneteau.com
JEANNEAU : Staying a boat-length ahead by means of beautiful innovations, whether with its NC powerboat models or the 8th generation of Sun Odyssey sailboats. All press releases, photos, and videos can be found at http://media.jeanneau.com/
PRESTIGE : Prestige is enhancing its Sport Yacht offer and adds to its Flybridge product line the Prestige 520. All press releases, photos, and videos can be found at http://media.jeanneau.com/
LAGOON : At the European and US boat shows, Lagoon is exhibiting almost its entire product line of catamarans from 11 to 24m in length, including its newest 3 models: Lagoon 40, 50 and SEVENTY 8. Stay up-to-date with the latest news on http://www.cata-lagoon.com/
CNB : The happy family is growing larger ! This autumn, the yard unveils in Cannes its new CNB 66. This sailing yacht adds to the semi-custom line ranging from 60 to 94ft and illustrates the yard's vision of the largest family yacht to be sailed without crew.
MONTE CARLO YACHTS : The evolution of Monte Carlo Yachts' timeless design stands out in Cannes, where the fleet's seventh model, the MCY 96, is on display. Press contact: info@montecarloyachts.it Tel +39 0481 283111
FOUR WINNS : Embodying exquisite US design, the 4 product lines focus on the space and feeling of being on a boat that has a distinctly US style. HD photos and videos available for download from the Media Vault: https://dmv.entertheport.com/?shelf=117852-1362
GLASTRON : Glastron redesigns deck boats with its new GTD series. Fun, unparalled finishing touches, excellent performance, and a feeling of speed all come together on these boats featuring distinctly US lines. HD photos and videos available for download from the Media Vault: https://dmv.entertheport.com/?shelf=117852-1363
WELLCRAFT : This iconic US brand is making a comeback and updating its Fisherman product line. Intended for amateurs and fishing enthusiasts, these boats offer fishing-specific features. HD photos and videos available for download from the Media Vault: https://dmv.entertheport.com/?shelf=117852-1365
SCARAB : Specializing in jet boats, Scarab designs and manufactures its boats in the US. They are known for their modern looks and built with water sports in mind. New for the 2017-2018 boating season: the Scarab 255 Open. HD photos and videos available for download from the Media Vault: https://dmv.entertheport.com/?shelf=117852-1364