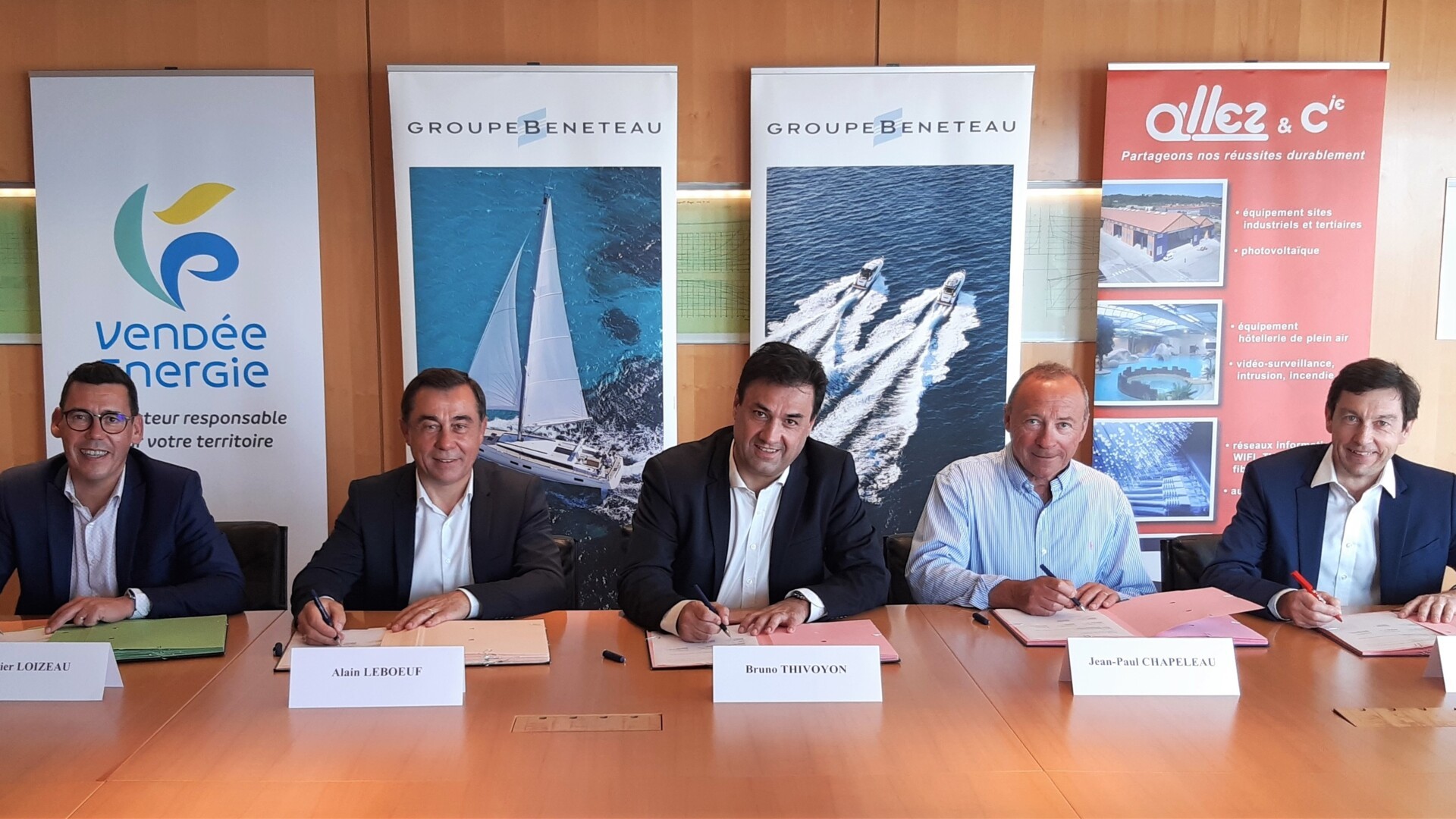 Saint-Gilles-Croix-de-Vie, France,
July 19, 2022
Energy transition: Groupe Beneteau commits itself alongside Vendée Energie and ALLEZ Cie group
On July 18, 2022, Groupe Beneteau signed the framework agreement for the photovoltaic shadehouse project in the French Pays de la Loire region with its partners Vendée Energie, represented by Alain Leboeuf, President and Olivier Loizeau, General Manager, and the ALLEZ et Cie group, represented by Olivier Allez, Chairman and CEO.
"With the signing of this framework agreement, we conclude two and a half years of preparatory work and consultations conducted by Groupe Beneteau's teams with our partners. This is a great project because it commits Groupe Beneteau and the Vendée region to the energy transition. It also demonstrates the group's desire to put its sustainable development strategy at the heart of its corporate strategy. Finally, it strengthens our roots in the heart of the Vendée region, which is very dynamic, driven by its entrepreneurs and supported by its communities," said Bruno Thivoyon, CEO of Groupe Beneteau.
"Vendée Energie, thanks to its shareholders, notably Sydev and the Vendée Council, is investing 7 million euros to produce green electricity, which is so useful for the people of the Vendée and our businesses," added Alain Leboeuf, President of Vendée Energie and the Vendée Council.
The project aims to create photovoltaic shadehouse installations on eight Groupe Beneteau production sites in the Vendée area. Representing a total of 40,660 m2 of photovoltaic panels (i.e. more than 4 hectares), the shaded areas will provide covered parking for employees on all sites. They will also provide 130 electric recharging points for employees' private and company vehicles, throughout the Vendée area and in Cholet. Overall, this photovoltaic shadehouse project will produce 9,770 MWh (megawatt-hours) of electricity from renewable sources at full load, which will supply Groupe Beneteau's production sites.
Thanks to this partnership with Vendée Energie, the shadehouse project will also make it possible to connect 8.4 MWp (megawatt-peak) of electricity produced on the Groupe Beneteau's production sites to the Vendée electric network. Thus, more than 1,800 households located in the neighboring towns will be able to be supplied with locally produced renewable electricity. 
Work on the installation of the photovoltaic shadehouses will begin in October 2022 and electricity will start being produced as of January 2023.
By choosing Vendée Energie and the ALLEZ et Cie group, Groupe Beneteau has chosen a solution that relies on the synergies of local players. As the historic electrician of Groupe Beneteau, the ALLEZ et Cie group will be the local technical partner with a perfect knowledge of the sites on which the installations will be carried out.
Management & experts linked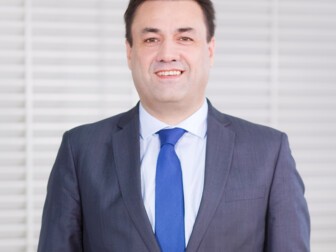 Chief Executive Officer
Bruno Thivoyon is Chief Executive Officer of Groupe Beneteau. 
Previously he was Deputy CEO in charge of Finance, Legal and IT Systems from January 1 to June 17, 2022. He...
Read more