Saint-Gilles-Croix-de-Vie, France,
March 14, 2022
First powercat M48 by PRESTIGE unveiled
With this very first powercat, PRESTIGE takes a major step forward in the brand's promise: offer a new Art de Vivre.
PRESTIGE yacht owners sail with their families and, for the most part, without a crew. They particularly appreciate the feeling of space provided by the 360° vision in the lounge, the great light, the optimal design of the owner's cabin and the maneuverability of our yachts. Today, our buyers want more luxury, space and comfort. High cruising speed is no longer a requirement - stability is. These developments have naturally led us to the catamaran. With this platform connected to the water, PRESTIGE renews its promise to always realize its dream of living on a private island! confirms Erwin Bamps, PRESTIGE General Manager.
Unique features
The M48 combines the undeniable expertise of the PRESTIGE teams with the creativity of its historical designer, Camillo Garroni of Garroni Design and the architectural company Philippe Briand Yacht Design. Built on Les Herbiers site in Vendée, France, this first model has benefited from the long industrial experience of Groupe Beneteau in catamaran design and the know-how of Les Herbiers' teams.
What makes the M48 unique is:
The volume: this 50-foot catamaran offers a volume equivalent to a 60-foot motoryacht
The cabins: the owner's cabin extends on 18 sqm and spreads over the entire beam of the vessel; the guest cabins have a queen size bed that converts into 2 single beds facing the sea, with direct access to their own bathroom
Conviviality and comfort: the aft cockpit can accommodate up to 8 guests around the table; there are numerous stowage spaces, ingenious layouts and equipment in the cockpit, the kitchen and the flybridge
The aft platform: versatile with its 6m width, it can be a terrace, a tender lift or a beach club
Stability at sea: with its impeccable behavior the M48 offers smooth sailing at any speed and allow for maneuvering with complete peace of mind
Cruising range: with a cruising speed of 8 to 10 knots and a wetted surface area that is 20% less than a conventional hull, fuel consumption is reduced in the same proportions; she offers a longer cruising range (600 miles at 8 knots and 250 miles at 18 knots)
Management & experts linked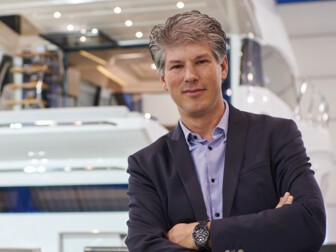 PRESTIGE Brand Director
Erwin Bamps is PRESTIGE Brand Director since November 1, 2018.
With a Masters in electronics engineering, Erwi...
Read more