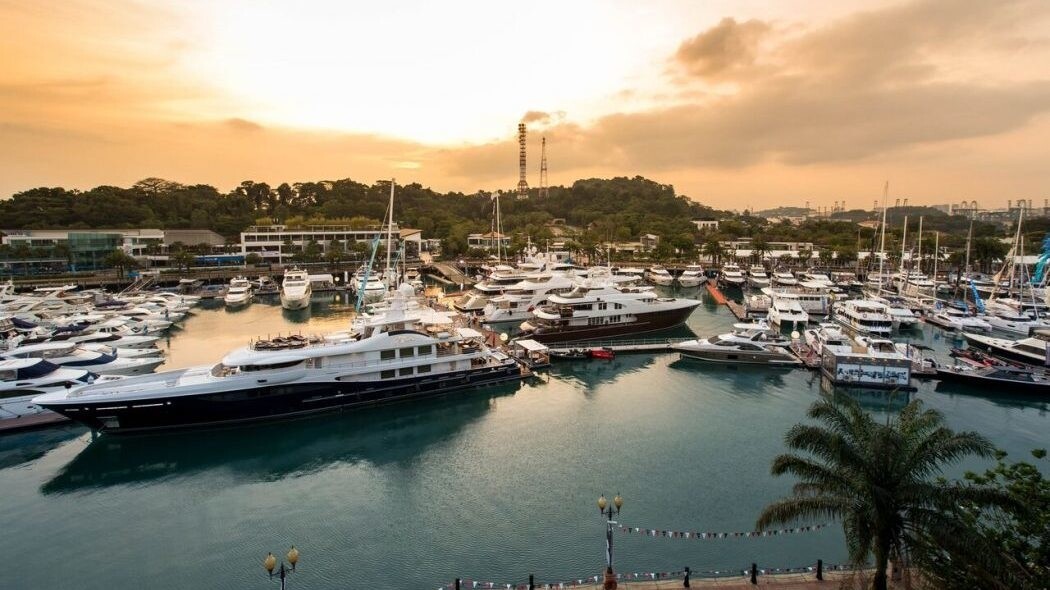 Singapore, Singapour,
April 13, 2018
Singapore Yacht Show 2018: confident in Asia Pacific potential
On the occasion of the Singapore Yacht Show, Groupe Beneteau held its first official press conference in the Asia Pacific area. A unique opportunity for Group CEO Hervé Gastinel to share its global and regional strategies, while three Asia Premieres were unveiled by leading brands Beneteau, Jeanneau and Lagoon.
Opening the press conference, Group CEO Hervé Gastinel underlined how unique the Group is in the boating panorama. It operates a portfolio of 10 strong brands (over 200 boat models) that answer its customers' diverse boating needs and uses, from sailing to motorboating, monohulls and catamarans:
Dayboating with the outboard offer of Jeanneau and Beneteau as well as the American brands Four Winns, Glastron, Wellcraft and Scarab

Cruising with family and friends

, whether sailing or motorboating, onboard the leading brands Beneteau, Jeanneau and catamarans Lagoon

Premium and luxury experience

with CNB large sailing yachts, Prestige and Monte Carlo Yachts (MCY) motoryachts
With Group's boating revenues above 1bn euros and over 1,000 points of sales across the world, Asia Pacific represents just 5% of its current sales. Since 2003, Groupe Beneteau has taken several positive moves to strengthen its operation in the region, building an even stronger dealer network and moving the Group's Asia-Pacific regional headquarter to Hong Kong. The Group currently has 11 permanent employees and manages a network of more than 50 dealers in the region.
At the Singapore Yacht Show known as Asia's premier luxury lifestyle event, six brands – Beneteau, Jeanneau, Lagoon, Monte Carlo Yachts, Four Winns and Glastron – are exhibiting an amazing line-up of 14 display models. Three models will have their Asia debut at the show, namely the sailboats Beneteau Oceanis 51.1 and Jeanneau Sun Odyssey 440, as well as catamaran Lagoon 50.
Present in Singapore, brand leaders Carla Demaria (MCY), Jean-Paul Chapeleau (Jeanneau, Prestige), Vincent Arnaud (CNB), Thomas Gailly (Lagoon Sales Director), Paul Blanc and Thibaut de Montvalon (Groupe Beneteau Asia Pacific) shared their views with the medias about future development of the boating markets in Asia and stressed the importance they attach to the region and their Asian customers.
Visitor Information for the Singapore Yacht Show 2018
Date: April 12th – 15th, 2018
Venue: ONE°15 Marina Sentosa Cove, Singapore
SAILING
MOTORBOATING

BENETEAU
Oceanis 51.1 - Asia Premiere

BENETEAU
Monte Carlo 6
Gran Turismo 46
Flyer 7.7

JEANNEAU
Sun Odyssey 440 - Asia Premiere
Sun Odyssey 349

JEANNEAU
Merry Fisher 895

LAGOON
Lagoon 50 - Asia Premiere
Lagoon 42

LAGOON
Lagoon 630 MY
 

MONTE CARLO YACHTS - MCY
MCY 86
MCY 70

 

FOUR WINNS
HD 220 RS OB

 

GLASTRON
GT 245