Saint-Gilles-Croix-de-Vie, France,
June 2, 2022
WELLCRAFT 355: built to push limits
For over six decades, Wellcraft remains the vanguard of offshore boating with a strong history of power and performance. Today, Wellcraft is widening its offer with a new, versatile generation built for all adventures, in all types of weather, providing a new perspective and enthusiasm for boaters worldwide.
Outlasting trends, Wellcraft will enable them to conquer new territories, pushing the limits further than ever before. This new generation of performance cruiser will provide a wide range of capabilities and purposeful functions, responding to the toughest demands and meeting every challenge.
"There is a new breed of boaters, not satisfied with the typical boating lifestyle. They want to see the world from a different perspective. Instead of gazing at the sea from shore, they shove off and never look back » explains Nick Harvey, WELLCRAFT Brand Director
WELLCRAFT 355, the adventure begins
The WELLCRAFT 355 takes the lead in every aspect; outstanding design, comfort, and most importantly, speed and seaworthiness. Designed to push the limits - out past the horizon where the water is deep and adventure begins - Wellcraft utilizes its rich heritage of offshore experience to push into this new market with American flare and shameless enthusiasm.
Management & experts linked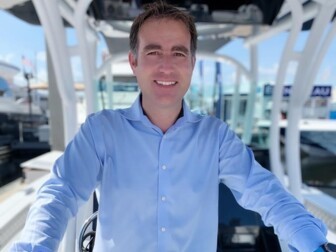 FOUR WINNS and WELLCRAFT Brand Director
Nick Harvey is FOUR WINNS and WELLCRAFT Brand Director.
In charge of Jeanneau and Prestige sales development i...
Read more