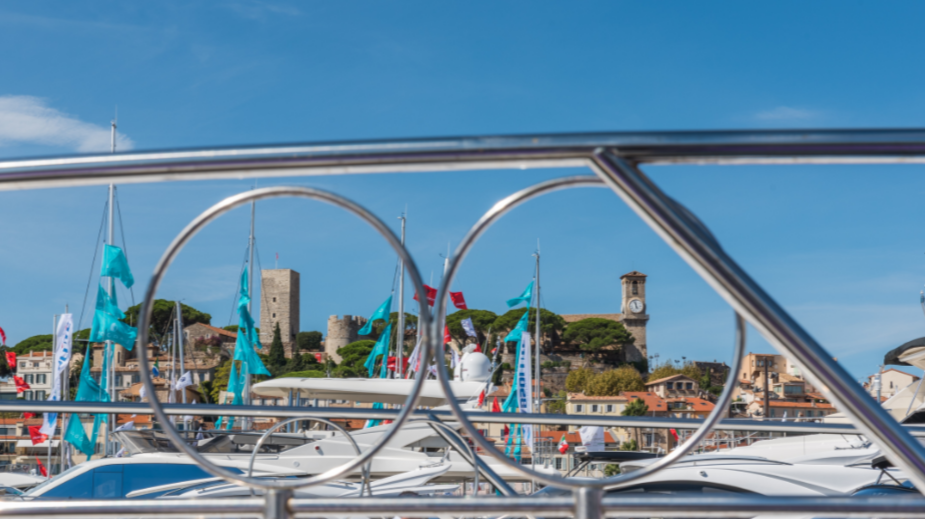 Cannes, France,
September 11, 2018
Announcements at Cannes Yachting Festival 2018
A resilient and agile leader, Groupe Beneteau wants to become the global benchmark for all boating experiences.
At the 41st Cannes Yachting Festival, Groupe Beneteau highlighted the progress made with its transformation strategy rolled out in line with the Transform to Perform plan, launched in 2017. 
Hervé Gastinel, Chief Executive Officer, looked back on a year marked by the ramping up of the Group's product selection, the acceleration of its digital transformation and the major strategic investments made.
Clear, consistent and innovative product strategy for Groupe Beneteau's 10 brands
In just three years, nearly half of the models offered by the Group's 10 brands have been renewed (i.e. 88 out of 200 models).
For the 2018-2019 season, the brands – Beneteau, Jeanneau, Lagoon, Prestige, Monte Carlo Yachts, CNB, Four Winns, Glastron, Wellcraft and Scarab – have unveiled 32 new models, five of which will be announced during the season. The Ship Control technology, a major innovation pioneering connected boats, has been fitted on the Beneteau Swift Trawler 47 and Prestige 590.
At the Cannes Yachting Festival, the Beneteau, Jeanneau, Lagoon, Prestige, Monte Carlo Yachts, CNB, Four Winns and Wellcraft brands are presenting 69 boats, including 13 world premieres and 16 yachts over 60 feet (18.28m).
The Group's highly-anticipated new catamaran brand also revealed its name – EXCESS – and its modern, sporty line-up in Cannes (see full press pack). For the multihull segment, on which the Lagoon brand is the world leader for catamaran cruisers, EXCESS brings a complementary range for enjoying life at sea 360°.
The Group's "small boats" strategy aims to make boating experiences accessible for as many people as possible, notably by attracting a younger clientele. The acquisition of Seascape and its mini-performance cruisers has reinforced the Beneteau and Jeanneau brands' global leadership in the liveaboard monohull sailing segment. Alongside this, the acquisition of Delphia will further strengthen the Group's positions on the dynamic and strategic outboard motorboat segment. Delphia brings additional product development and production capacity, as well as complementary ranges.
The world's leading builder, Groupe Beneteau aims to be the global benchmark for all boating experiences
A number of major initiatives have been launched in 2017-18: the Leasyboat offer, the Beneteau and Jeanneau boat clubs, and the Band of Boats platform. These transformations reflect the Group's capacity for innovation and daring approach. They are enabling it to better understand the changes in recreational boat users' expectations and practices, which is vital for shaping future boating experiences.
Unveiled at the Paris Boat Show for the French market, the Leasyboat offer is a world first for the boating market. Developed with its partner SGB Finance, this all-inclusive solution is inspired by the automotive sector and thought out for first-time buyers: 400 euros per month is now all it takes to open up access to a Beneteau or Jeanneau outboard boat with a 100hp engine, including financing, insurance, engine maintenance and trade-ins, over a four-year period, all without any up-front fee.
Faced with the growing popularity of boat clubs, and considering that they offer an interesting alternative to occasional boat hire or buying your own boat, the Beneteau Boat Club and the alliance between Jeanneau and Freedom Boat Club were both launched this year. The Beneteau Boat Club has just introduced an unlimited boating offer to mark the inauguration of its headquarters in Sables d'Olonne. The dealers that have been welcomed on board for this initiative are playing a key role in developing new communities of passionate boat users.
Launched in spring 2018, Bandofboats.com is the first-ever online community platform designed by and for everyone with a passion for recreational boats, covering both individuals and professionals. This new tool is designed to establish relationships for purchasing, leasing and selling new or preowned recreational boats and aims to make leisure boating simpler and more accessible. The platform always offers a selection of several thousand models of brands that are accessible for all budgets, as well as the advice and support needed to help make choices and facilitate and secure transactions. Far more than just a simple marketplace, Bandsofboats.com is a true online services platform (financing, insurance, boat transport) and also provides help for customers to define their "ideal boat" and find it for sale or leasing.
Sustainable industrial strategy driven by key investments in France and internationally
This year, the Group's plants have further strengthened their production capacity, flexibility and multipurpose capabilities. A number of investments have been rolled out in France, Poland and the US. Production transfers have been organized, enabling the Group to benefit from an international industrial platform that is focused on producing more boats as close as possible to areas of consumption.
In Europe, the acquisition of Delphia Yachts will strengthen Groupe Beneteau's product development and production capacity by adding a second production site in Poland, in addition to the Ostroda facility, which has just been extended in 2018 and is now the country's largest site. This operation has also ramped up the Group's product development capacity, enabling it to benefit from its new R&D and prototyping center.
The US is a strategic market for the Group. This is highlighted by the reopening of the Sport Plant, RBH's second production site, in Cadillac (Michigan), after being shut for 10 years. This year, the Group has also launched a new financing offer – Groupe Beneteau Financial Services – aimed at our brands' American customers and dealers.
Lastly, on July 18, the Group announced the new organization for its Asia-Pacific office, bringing together all the region's staff in a single office in Hong Kong. This reorganization aims to enable the Group to further strengthen and expand its operations in this particularly strategic region.
"Better organized and focused on its business model, the Beneteau Group has sound financial foundations in place and an effective action plan to continue developing. As a market leader, we aim to continue moving forward, raising standards and imagining what has never been done before. I want the Group to become the global benchmark serving all boating experiences", confirms Hervé Gastinel, Groupe Beneteau Chief Executive Officer.
Management & experts linked